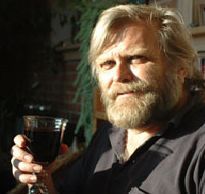 I was born in 1948. My father - Robert Lund-Jensen - was a well known sculptor, his statue of a fisher maiden called "Amanda", standing in the small town of Kerteminde, is one of the most famous sculptures in Denmark.
I'm educated as a schoolteacher, and I have been teaching for many years at Lumby School in the northern outskirts of Odense.
From the beginning of the seventies and onwards I have been travelling in all parts of the world. Through the years I have gained a position as Denmark's most travelled man, if it is counted in the number of visited countries. This have been recognised by "De berejstes klub" (www.berejst.dk) – in English called "Travellers Guild" - and also by the Danish edition of Guiness Book of Records.
Travelling is not my only interest. I am also a pretty good amateur actor and I have been acting - and sometimes also worked as a producer - in more than 50 productions at the respected amateur theatre Nedergadeteatret (www.nedergadeteatret.dk) in Odense.
Besides that I have written a novel, some short stories and three stage plays, mainly science fiction.